Quaking With Anxiety is the fifth episode of Survivor: Byzantium.
Reward/Immunity: The Picture of Everything
Winner: Chalcedon
Tribal Council 4:
Edessa
Voted
Against
Voter

Konrad (7 votes)


Augusto, Charlie P, Hannah, Liam,
Linus, Luca & Nicole

Augusto (1 vote)

Konrad
"
I'm really really sad about this vote 😞

Konrad is just such a genuinely nice person And I hate to see him get swapfucked like this (even if it's partially on him for apparently only talking to me)

"

–Linus
"
I'm sure your a cool guy irl but using emojis in every sentence gets annoying real quick
"

–Liam
"
You are a pretty cool dude, but I got enough friends with my Beauties right now ;-;
"

–Augusto
"
Sorry man eat or be eaten.
"

–Charlie P.
"
My best was not enough. But what can you do.
"

–Konrad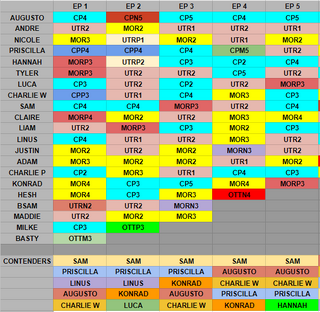 Augusto named the episode.
Community content is available under
CC-BY-SA
unless otherwise noted.