This Vote is Extremely Fragile is the ninth episode of Survivor: Byzantium.
Challenges
[
]
Reward/Immunity: Round Table of Suffering
Winner: Chalcedon
Tribal Council
[
]
Tribal Council 8 - Edessa
[
]
Tribal Council 8:
Edessa
Voted
Against
Voter

Linus (5 votes)


Hannah, Linus
Luca & Nicole

Liam (1 vote)

Linus
Voting Confessionals
[
]
"
You won the game for a reason and it would be foolish of me to let it happen twice! While you are good for my game in some aspects, my game would probably end because you're still in. You're an awesome guy but go back to the hetero world where you belong and let me slay the game before it slays me ;-;
"

–Augusto
"
Sigh, I vote for Liam and hope I guess since Nicole went to bed
"

–Linus
Final Words
[
]
Edgic
[
]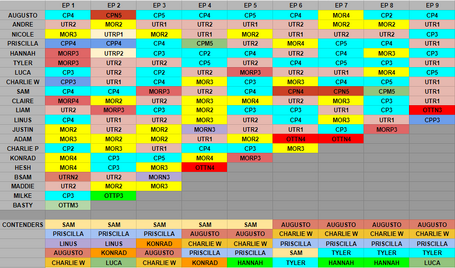 Trivia
[
]
Luca named the episode.
After this episode, Linus is the first returnee to be voted out of the game.
External Links
[
]